Hooray for Hollywood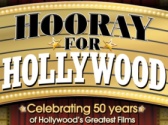 One of Branson's newest exciting shows for 2011!
It's the all singing, all dancing Movie Musical Hooray for Hollywood – featuring the most famous song and dance moments of the last 50 years of movie history – recreated live on stage at the Branson Variety Theater!
Join us as we take you on a nostalgic journey through the most popular movie musicals of the last 50 years. You will see film clips of your favorite movies, and then watch the action unfold, live on stage, as our wonderful cast of singers and dancers perform the greatest song and dance from the greatest movies, live in concert.
Produced by the award winning production team that brought Spirit of the Dance to Branson, Hooray for Hollywood is the number one must see new show for the 2011 season.
Featuring highlights from famous movies, from Singing in the Rain, to Disneys "The Lion King", this all new, all singing, all dancing production will thrill and excite you as your favorite movie moments come alive before your eyes.
Hooray for Hollywood. Now That's Entertainment!
Meet the Stars after the show!