Bill Haley's Original Comets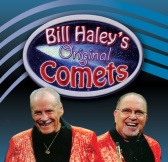 Many bands call themselves the fist or oldest rock band in the world but without any doubt, The Comets are the real McCoy. Before these guys hit the scene, there was nothing. Even the name Rock 'n' Roll got its name from their early hit song, "Rock a Beatin' Boogie."
Bill Haley and his Comets were the first top rock band to use a then relatively unknown young support act by the name of Elvis Presley in 1955.
They were the first rock band to be awarded a gold disc for over a million sales.
Bill Haley and his Comets recorded the best selling rock record of all time, "Rock Around the Clock" with over 200 million records sold.